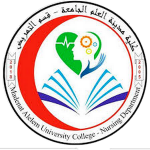 Nursing department
Summary
The nursing department established in Madenat Alelem University College in 2018-2019. It was initiated in responding to the needs of the Iraqi Ministry of Health for highly qualified nurses in order to meet the goals and objectives of nursing future vision in Iraq. The graduated students will acquire knowledge and skills and they will understand the humanity in the profession.
Nursing is a scientific discipline that requires creativity in its application. The essence of nursing is to provide patients with evidence-based care in implementing all measures that contribute to improving health and treating disease. Care is the main dimension in nursing science, so nursing can help people to reach the higher level of harmony which requires a good relationship between nurses and patients.
The excellence in nursing practice is achieved through preparing and advance, scientific, humanitarian nurses who can deliver quality of care to patients. We believe in consolidation of cooperative partnership, both internal with multidisciplinary team and external stakeholders such as scientific institutes, professional association and community institutes.
This is the key of providing professional, innovative and quality nursing care services. One of the ways to advance nursing profession towards the better is to establish the basic value that the future nurse should have.
Innovation: working with commitment to strive for providing new advance and effective procedures through individual ideas and scientific methodology.
Compassion: responding to the emotional needs of patients and their families.
Collaboration: an appreciation of the power of the input of multidisciplinary collaboration in providing care.
Advocacy: Acknowledgement of the professional responsibility to support the needs of patients and colleagues.
Respect: Valuing the patients' right.
Excellence: Achieving excellence in the care provided.
The main tasks are to enable students to:
1. Understand theories, principle and sciences and apply them in work.
2. Follow the scientific steps in providing nursing care with all background and ages in the field of primary, secondary and tertiary prevention.
3. Cooperation with all health team members.
4.The objective link between the nursing science and country's health problems.
5. Familiarity with basics of supervision and management of nursing health problems.
6. Enhancing the quality of life and offering educational programs to meet the needs of individuals in the region.
7. Providing opportunities for individuals to obtain their higher education in a highly efficient and effective manner.
8. Preparing graduated for certificate with expected competence that enables them to obtain higher degrees in nursing.
9. Expanding the mental skills of individuals and the quality of their continues desire to strengthen their ability in making decisions related to their lives for all matters which they may face in a world with a rapid changes.